[column width="1/1″ last="true" title="" title_type="single" animation="none" implicit="true"]
The popularity of low-maintenance, wood-look doors exploded in 2015 with new models, design options, and colors to fit any home style and budget. Take a look at the newest faux wood door design trends for your home from Clopay.
One Clear Choice is the only Authorized Clopay Dealer in Denver.
At first glance, these garage doors appear to be made of stained Cherry wood, but in reality they feature Ultra-Grain, a durable, natural-looking, weather resistant woodgrain paint finish applied to steel and fiberglass door surfaces.

New in 2015: Clopay Premium Series insulated raised panel steel garage doors in a Cherry finish with Trenton decorative windows. Coordinating Clopay Arbor Grove Collection fiberglass entry door with Trenton glass.
Going for a different look? Ultra-Grain is also available on other Clopay garage door models including the Gallery Collection, a grooved panel vintage style steel door with updated appeal, as well as on the modern Avante glass garage door.

Clopay Gallery Collection Short Panel with Arch1 windows. Ultra-Grain colors complement Clopay's ENERGY STAR® qualified fiberglass entry doors. Door shown: Rustic Collection fiberglass entry door.

Clopay Avante Collection with Cherry Ultra-Grain paint finish
In its annual list of the Top 50 eco-friendly building products, Green Builder recognized the Canyon Ridge Collection Limited Edition Series for its unique appearance, material innovation and design versatility, while also pointing out the extreme durability and energy efficiency the door's five layer construction method provides.

Clopay Canyon Ridge Collection Limited Edition Series, Design 13, REC 13 windows with Mahogany Cladding and Overlays, Dark Finish.
With a 20.4 R-value, this durable, low-maintenance polyurethane insulated faux wood garage door will help reduce energy loss through and improve the comfort year-round.

Clopay Canyon Ridge Collection Limited Edition Series, Design 13, Pecky Cypress Cladding with Clear Cypress Overlays, Dark Finish.
Unlike natural wood, the stained composite cladding is moisture resistant so it won't rot, split, shrink or crack.

In addition to a Medium and Dark finish, the Canyon Ridge Collection Limited Edition Series is also available in Walnut or White.
The Best of Both Worlds Collide
In September, we combined two award-winning technologies into one with the new Canyon Ridge® Collection Ultra-Grain® Series. Think of it as a luxury door at an economy price.

Canyon Ridge Collection Ultra-Grain Series Design 32, Medium Ultra-Grain Finish. Also available in Walnut.
The composite polymer panels on this carriage house style garage door are molded from real Cypress boards to mimic natural wood, while the intricate grain patterns on the Ultra-Grain finished steel door is exactly what you'd expect to find on the real deal.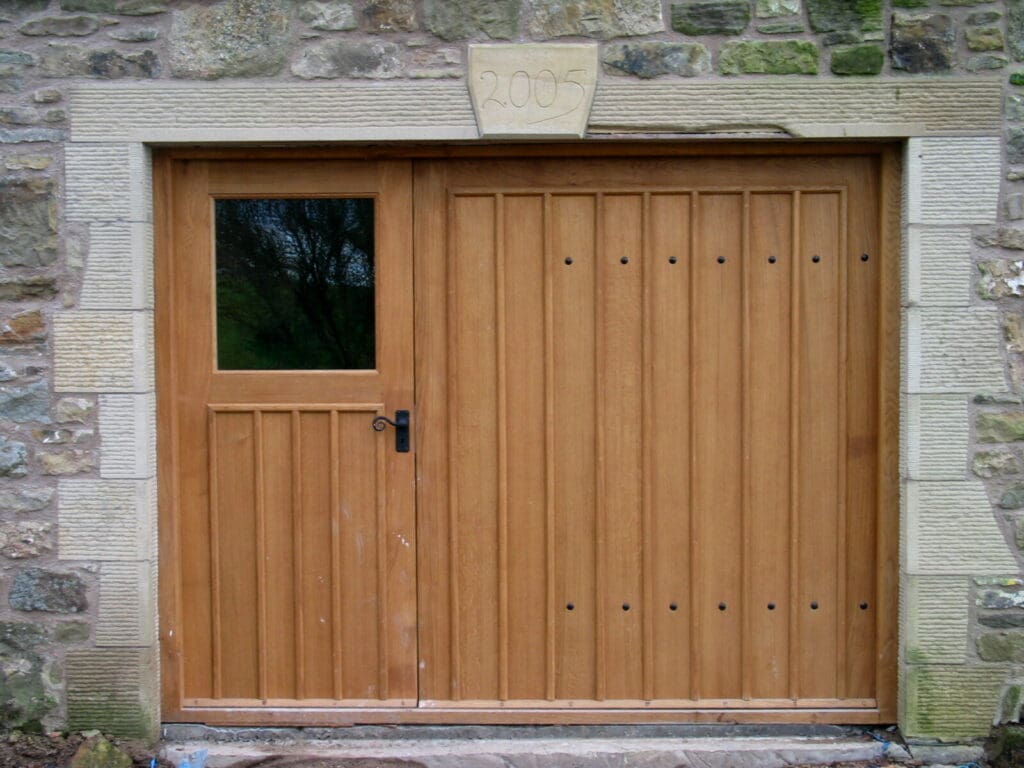 The editors at This Old House took one look and declared, "We'll take the fake!", naming it a "Top 100 Product" of the year.
Painted Carriage House Charmer
Clopay's best-selling Coachman® Collection carriage house garage door got a spring makeover in 2017 with new designs and color combinations and greater energy efficiency.

With an R-value of 18.4, this low-maintenance steel and composite charmer provides year-round comfort, long-lasting beauty, superior strength and quiet operation. Model shown: Design 11, Arch3 windows with colored overlays.
It was featured on the Southern Living 2017 Idea House as well as on the "Best Aging in Place Home" category winner featured in Green Builder magazine's Homes of the Year issue.
Coordinated Curb Appeal
Clopay is the only garage door manufacturer to offer ENERGY STAR qualified entry doors constructed in fiberglass or steel to complement our popular garage door designs. This includes coordinating colors and window designs.

Clopay Gallery Collection, short panel with Clayton decorative windows andClopay Rustic Collection fiberglass entry door with Clayton glass, both in Desert Tan.
Upload a photo of your home to Clopay's Entry Door Imagination System to try on a new front door.
[/column]