SPECIALS MUST BE MENTIONED AT TIME OF SCHEDULING. TECHNICIANS MUST COMPLETE WORK ON FIRST VISIT AND IF WE DON'T KNOW YOU WANT IT WE MAY NOT HAVE IT ON OUR TRUCKS.
GARAGE DOOR SPECIALS
ONE CLEAR CHOICE IS THE ONLY GARAGE DOOR COMPANY TO POST PRICING.
One Clear Choice Has Developed A Reputation of Being An Honest Value Focused Company that Is Affordable. We Have A Low Price Guarantee That Pays You. We want To Be Your Garage Door Company.
Garage Door Service, Repair, Installations, showrooms in Alpharetta, Georgia and Kennesaw georgia. servicing all Areas within a 30 Mile Radius
Cobb Parkway Opens July 1, 2019
NEW DOOR INSTALLED 499.00
8X7  UNINSULATED UTILITY PAN DOOR INSTALLED ONLY 499.00
16X7  UNINSULATED UTILITY PAN DOOR INSTALLED ONLY 797.00
DOOR MUST BE A CLOPAY, ANKMAR, WESTWINDS
DOOR MUST BE IN STOCK COLOR WHITE, ALMOND, SANDTONE.
DOOR OPENING MUST BE READY FOR A STANDARD INSTALL WITH ZERO MODIFICATIONS REQUIRED.
DOOR MUST BE STANDARD TRACK RADIUS 12″ OR 15″
ALL FRAMING FOR TRACK MUST BE PRESENT. 
JOIST CAN NOT BE HIDDEN.
CUSTOMER MUST MEASURE THE DOOR
100.00 NON REFUNDABLE DEPOSIT REQUIRED. IF CUSTOMER MISMEASURES THE DEPOSIT WILL BE APPLIED TO THE CORRECT DOOR. IF CUSTOMER DOES NOT WANT TO RESCHEDULE THE DOOR THEN THE DEPOSIT WILL BE APPLIED TO THE COST ASSOCIATED WITH SCHEDULING A GARAGE DOOR INSTALL THAT COULD NOT GO IN DUE TO INCORRECT MEASUREMENTS.
CUSTOMER MUST COMPLETE MEASUREMENT FORM ACCEPTING RESPONSIBILITY FOR MEASUREMENT.
ONE PIECE CONVERSIONS WILL NOT QUALIFY
GARAGE DOOR STRUCTURES OLDER THAN 1978 THAT REQUIRE LEAD TESTING DO NOT QUALIFY.
OFFERS CAN NOT BE COMBINED

FREE OPNER INSTALLED WITH ANY GARAGE DOOR PURCHASE. 
OFFERES CAN NOT BE COMBINED. 7′ RAIL. ADD 64.00 FOR 8′ RAIL. OPENER UPGRADE REQUIRED FOR 8′ RAIL.
PURCHASE ANY GARAGE DOOR AT FULL PRICE AND WE WILL INSTALL A LIFTMASTER 8010 GARAGE DOOR OPENER FOR FREE. 8′ RAIL NOT AVAILABLE.
YOU CAN UPGRADE :
8155 249.00 INSTALLED 
8550W 349.00 INSTALLED
MUST MENTION THIS AD.
128.00  Spring Replacement 
The Following Conditions May Apply Depending On Current Call Volume Levels
Not available after hours or Emergency Calls
Low priority four hour window
One Year Warranty Against Broken Spring Only.
Includes Garage Door and Garage Door Opener Inspection But Does Not Include Service
In Stock Spring Sizes Include Residential zinc Alloy 15k + Cycle Rated Torsion Springs 
 and Standard Residential Sized Extension Springs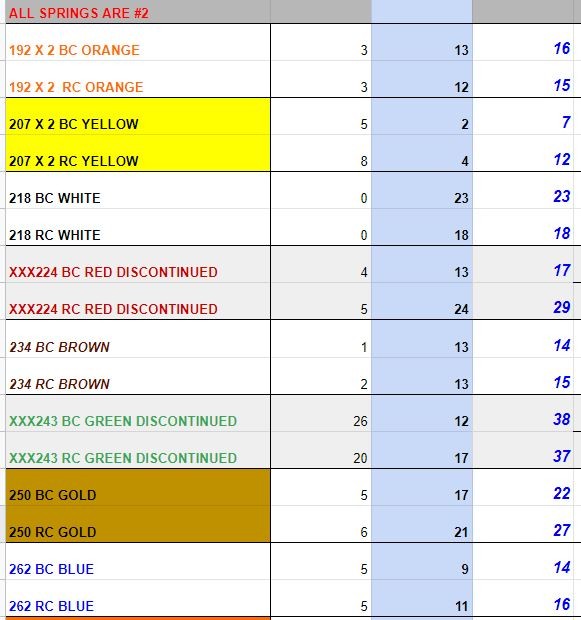 GARAGE DOOR OPENER INSTALLED  FOR 249.00
THIS OPENER IS AVAILABLE TO FIRST TIME CUSTOMERS ONLY. THIS OPNER MUST BE PREORDERED AND INSTALLED ON FIRST VISIT.
8010 MODEL ONLY
MUST MENTION THIS WHEN SCHEDULING. TECHNICIAN WILL NOT HAVE IT ON HIS TRUCK AND IF HE HAS TO RETURN WITH IT THEN THE PRICE WILL GO UP TO 302.00
CUSTOMER CAN BE PUT ON WAIT LIST IF THE OPENER IS OUT OF STOCK OR ON BACK ORDER.