DON'T TAKE A CHANCE. MAKE A CHOICE.
Garage Door Spring Repair Pricing:
 WE USE THE SAME SPRING REGARDLESS OF THE WARRANTY YOU PURCHASE. CONSIDER HOW LONG YOUR SPRINGS LASTED WHEN DECIDING ON WHAT WARRANTY TO PURCHASE. WE PUT UP THE SPRINGS THAT WILL BALANCE YOUR DOOR. ALTHOUGH SIZE MATTERS, HOW MUCH YOU USE YOUR DOOR WILL DETERMINE HOW FAST YOU GO THROUGH CYCLE LIFE MORE THAN WHAT KIND OF SPRING YOU PUT UP. DON'T GET FOOLED INTO BELIEVING IN AN UNBREAKABLE SPRING..
THIS SUCKS! WE WANT TO HELP!
UNLIKE OTHER COMPANIES WE WILL COME OUT GET YOUR GARAGE DOOR STABILIZED SO THAT YOU CAN FEEL SAFE IN YOUR HOME AND THEN ALLOW YOU TO USE UP TO 150.00 OF THE REPAIR COST TOWARDS A NEW GARAGE DOOR AT REGULAR PRICE.
GARAGE DOOR SPRING REPAIRS ARE COSTLY AND USUALLY A RESULT OF AN AGING SYSTEM AND RESPONSIBLE FOR FAILING PARTS THAT NEED TO BE REPLACED. GARAGE DOORS BROKEN SPRING SITUATIONS ARE CONSIDERED A COMPLETE SYSTEM FAILURE HOWEVER, THE SPRINGS CAN BE REPLACED, BAD GARAGE DOOR PARTS CAN BE REPLACED AND IS CHEAPER IN MOST CASES THAN A NEW GARAGE DOOR.
UNEXPECTED REPAIRS CAN BE TOUGH. ONE CLEAR CHOICE WILL ALLOW SOME OF THESE REPAIR COST TO GO TOWARDS A NEW DOOR INSTALL. I AM UNAWARE OF ANYONE THAT DOES THIS.
CLICK ON ANY OF THE LOGOS BELOW TO FOR MORE INFORMATION
GARAGE DOOR SERVICE AND REPAIR SOLUTIONS AVAILABLE NEAR YOU! SAME DAY SERVICE AVAILABLE.
NO ONE INSTALLS MORE GARAGE DOORS AND WE HAVE FOUR GARAGE DOOR SHOWROOMS WITH MORE CHOICES THAN ANYONE ON DISPLAYS
FAILING SPRINGS CAN CAUSE STRESS ON GARAGE DOOR OPENERS.
 GARAGE DOOR OPENERS CAN BREAK WHEN PUT UNDER EXTREMES STRESS. IN MOST CASES OPENERS WILL WORK FINE IF SPRINGS ARE REPLACED QUICKLY, HOWEVER GARAGE DOOR OPENERS WILL FAIL IF FAILING SPRINGS ARE IGNORED.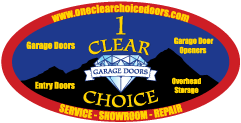 MAIN NUMBER 303-565-6409 HOW DID YOU FIND US?
FOUR CUSTOMER FRIENDLY SHOWROOMS. CREDIBILITY YOU CAN TRUST AND SHOULD EXPECT!
GARAGE DOORS CASTLE ROCK, CO.
GARAGE DOORS COLORADO SPRINGS, CO.
GARAGE DOORS LOVELAND, CO.
OVER 1000 POSITIVE REVIEWS
Locations
NORTHERN COLORADO REVIEWS
DENVER, COLORADO REVIEWS
SOUTH DENVER REVIEWS
COLORADO SPRINGS REVIEWS