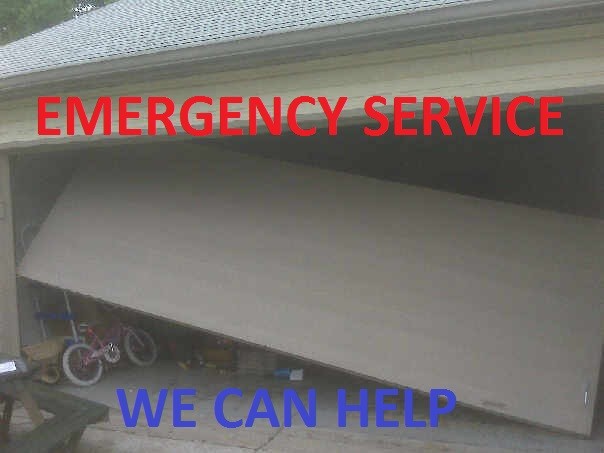 Emergency Garage door Repair
One Clear Choice offers 24/7 Emergency Residential Garage Door Repairs in Greater Denver area, Northern Colorado and Colorado Springs.
Emergency Garage Door Repairs
There can be many reasons for an emergency garage door repair. When you are heading out due to an emergency but your door doesn't open or close you may need immediate assistance that is not during normal business hours. You Can also request Emergency Service During Normal Business hours if  You Can't Wait Until A Normal Urgency Window Opens Up. Ask Your Phone Representative For Details.
Top Emergency Garage Door Repairs
Here are some of the top emergency door repair situations our technicians see:

WE DO NOT RECOMMEND TRYING TO FIX A GARAGE DOOR OFF TRACK. YOU COULD MAKE IT WORSE.
WE CAN REPLACE DAMAGED SECTIONS IF THE MODEL IS STILL MADE BY THE MANUFACTURING COMPANY. Unfortunately it is very difficult to price sections without visiting your home and visually inspecting the sections.  We do not charge a trip charge to come out and give an estimate during normal business hours.

For Immediate Assistance on your Emergency Repair You Can Reach Us 24 hours a day/ Seven Days A Week
Greater Denver area 303.565.6409
Colorado Springs 719.419.5546
Northern Colorado 970.222.0091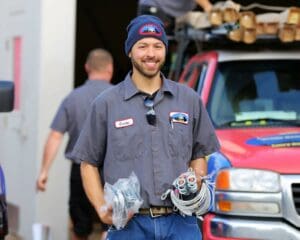 Non-emergency things you can check for:
Dead Batteries
Safety Eye Sensors out of alignment or dirty – door won't close properly, overhead light flashing?
Emergency Release disengaged – door won't open
Our technicians are able to troubleshoot your door problems, provide a solution and fix the problem, right on the spot*.
*Our technicians carry a large inventory of parts in the trucks. However, parts for a few custom/special order doors may be non-standard and would need to be ordered.
Emergency Service Fee is $75. This is in addition to any cost of repairs/parts that may be required.
     We have Built Our Reputation On Being An Honest, Value Focused Company That Is Affordable. However, A Garage Door Failure Is Unpredictable and Even The Smallest Repairs May Challenge A Budget If It Hits At The Wrong Time. Additionally, Garage Door Parts Are ALL Cycle Life Parts And Eventually Need To Be Replaced. To Fix Your Garage Door Right You Will Usually Have Other Problem Areas That Are Not Part Of the Immediate Problem But Put Your Door At Risk For Future Problems.
     If You Replace All Your Cycle Life Parts That Are Past Age And Life Expectancy You Give Yourself the Best Chance Of Not Having To Call For Costly Unexpected Repairs In the Future.
     We usually Do Not See Customers For 7-9 years Except for Maintenance. However, When Cycle Life Parts Are NOT Replaced We Get To Know Those Customers Pretty Well as We Change Parts That Move From "past Life Expectancy" to "Complete Failure"!
    Now Through Green Sky We Can Help Make That Decision Easier.  If You Want Us to Just Fix the Initial Problem, We Understand But If you Would Like To Complete Your Repairs As Recommended. Then This May Be A Great Option For You To
Prevent Additional Damage

Prevent Additional Cost

Prevent Additional Loss Of Time Waiting For A Technician To Fix Something That Could Be Fixed In One Trip.
0% financing available!