Important features to consider when purchasing a new garage door to withstand snow, sun and wind, and our recommendations for the best doors for the Colorado climate.
As a homeowner in Denver, you know that we get three things with frightening regularity in regards to weather: SNOW, SUN, and WIND.
You park your car in your garage to protect it and yourself from these three elements, closing the door safely to block out Mother Nature, but how can you protect your garage door?
Selecting the right garage door to withstand Colorado's climate requires consideration of the following critical features:
1. Garage Door Strength as a Key Feature
Let's talk about un-insulated garage doors, which are actually fairly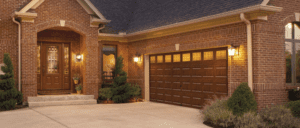 common. In some areas, un-insulated hollow core doors are simply insufficient to protect against wind without being fully strutted. This means a strut may need to be added to each section to strengthen the door.
The addition of these struts comes with additional cost. The end result of adding the struts can be a door that is more expensive than a higher quality three-layer construction door. See below for more information on three-layer construction garage doors.
2. Garage Door Durability
A three-layer construction garage door, also known as a "steel sandwich" garage door, is what we recommend in most cases for price and durability. The three layers are: steel, insulation, and another layer of steel.
We do not install insulated two-layer construction doors because, with regard to durability, there is not much difference between the strength of two layers and un-insulated hollow core doors. The third layer is what gives the steel sandwich door its strength and therefore its durability.
3. Protection for Your Garage Door from the Elements
Steel garage doors do not warp or rot, nor do they dry out, making them an ideal candidate for protecting against sun and snow.
Steel garage doorsalso provide the added value of baked-on enamel
finished paint. This type of door never needs to be repainted. In fact, it can simply be washed to make it look as good as the day it was installed.
Clopay has the largest line of garage doors to choose from. There are so many colors and designs, even wood grain that matches the natural grain of a typical wood door.
One Clear Choice is the only Residential Clopay Dealer in Denver, which means we are the preferred installer for all of Clopay's products and can offer special warranties, products, and discounts that other companies cannot.
The best door that I have seen, especially when it comes to the natural wood look, is the Canyon Ridge. The faux wood will last forever and is molded from real wood. It is hard to tell that it is not natural wood even when you touch it. It is energy efficient, sturdy, and beautiful.
Call us at 303.565.6409. We would love to help you get started finding your perfect, strong, durable, and protective garage door.