Our Showroom Features CARRIAGE HOUSE COACHMAN Garage Door Collection and INSTALLED Pricing
250.00 OFF ALL GARAGE DOORS INSTALLED PRICES
ONE CLEAR CHOICE INSTALLED PRICE 1704.30
ONE CLEAR CHOICE INSTALLED PRICE 1946.55
ONE CLEAR CHOICE INSTALLED PRICE 2102.04
Coachman® Collection
Authentic looking insulated steel and composite carriage house garage doors.
The perfect blend of beauty and practicality, these carriage house doors look like wood, but they are actually crafted of multiple layers of durable, low-maintenance steel and insulation topped with a woodgrain textured composite overlay.
CLICK HERE TO VIEW ALL DOOR AND WINDOW COMBINATIONS FOR THE CARRIAGE HOUSE STYLE COACHMAN DOORS
coachman overview
COACHMAN DESIGN OPTIONS
COACHMAN GARAGE DOOR CONSTRUCTION
COACHMAN GARAGE DOOR BROCHURE
PROMOTIONAL VIDEO AND QUICK DRAW TOOL
COACHMAN GARAGE DOOR INATALLATION AND CARE
GARAGE DOORS HAVE COME A LONG WAY. THERE ARE LOTS OF STYLES TO CHOOSE FROM. TRY THE GARAGE DOOR IMAGINATION SYSTEM TO SEE WHERE YOUR IMAGINATION CAN TAKE YOU!
BACKED BY THE INDUSTRY LEADERS AND THE PEOPLE YOU TRUST!
GARAGE DOORS CASTLE ROCK, CO.
GARAGE DOORS COLORADO SPRINGS, CO.
GARAGE DOORS LOVELAND, CO.
OVER 1000 POSITIVE REVIEWS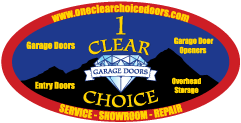 MAIN NUMBER 303-565-6409 HOW DID YOU FIND US?
Locations
NORTHERN COLORADO REVIEWS
DENVER, COLORADO REVIEWS
SOUTH DENVER REVIEWS
COLORADO SPRINGS REVIEWS