What Happens If There Is a Power Outage?
Any electric-run objects will not work in the absence of electricity, including electronic garage door opener. You will definitely do not want to get stuck locked out of your garage during a power outage just because the opener is unable to lift the door without electricity. Fortunately, there is a solution to this problem: a battery-powered backup garage door system.
Battery Backup for Garage Door Openers
An automated garage door opener that has a battery backup will allow you to always get your car out or in the garage during a power outage. Most contemporary garage door openers ─ built after 2006 ─ already include this convenient feature. However, if you do not have a battery backup, here is how to disengage garage door openers for manual operation.
How to Disconnect the Garage Door from the Automatic Opener
To operate any residential garage door manually, all you need to do is to pull the emergency release handle. The emergency release handle is usually a red rope with a pull handle that hangs from the opener rail near the top of your garage door.
Opener with a Square Rail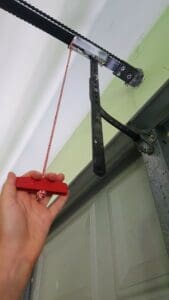 Pull down on the release cord; this will make the trolley release arm snap into the vertical position needed for the trolley to be locked out, which allows you to operate the door manually as often as necessary.
After the power is restored, you will have to re-engage the door, so the trolley release arm should be horizontal. Simply pull the handle back toward the opener at an angle. The trolley will reconnect next time opener is activated.
Openers with a T-Rail
To raise and lower the door manually, pull the red rope straight down and then pull it back towards the opener.
Reconnect the door by pulling the handle straight down. The trolley will reconnect the next time the door is activated.
Jackshaft Opener
Make sure your garage door is completely closed before disconnecting it from the jackshaft opener. Pull down on the release cord until you hear a click and lift the door manually.
To re-engage the automatic opener to the garage door, pull the handle straight down and hold it for a few seconds until you listen to a click. The door will reconnect next time you open it.
If you cannot get the trolley to reconnect, or if your opener is not working properly, immediately contact professional technicians from One Clear Choice to come out and take care of your garage door or opener repairs in Colorado.