Section Replacement Is Possible! In Most Cases Sections Can Be Replaced
Damaged Sections Can Be Replaced. Most Commonly it Is The Top Section Or The Bottom Section that Initially Gets Damaged Or Takes The Most Force From Some Type Of Impact.  But All Sections Can Be Replaced Individually or As A Set. Here Are The Questions We Will Need To Answer In Order To Help You With A Section Replacement Project:
Which Section Has Damage? 
Not all sections are the same. Top Section Replacement On A Garage Door Is Different Than Replacing A Bottom Section. Top Sections Should Have A Strut and An Operator Bracket Installed. This Is Usually In The User Manual Of ALL Garage Door Manufacturers and The Most Common Thing To be Left Off Of An install. Especially On Smaller Doors. Bottom Sections Have Seals Installed By The Manufacturer On Steel Doors But Wood Garage Doors The Seal Is Installed Separately On Site.
Who Makes The Garage Door Section? 
In Georgia we Have Several Brands Of Garage Doors To Choose From. The Most Common Garage Door Brands Are listed below We Can Get Any Of These Doors For You If You Like. Clopay Is The Only Company That Still Sells Sections That Match Design Stamps over Eight Years Old (this means we may be able to find a section to fit but it can have subtle differences in the design):
Clopay, The Only Company That Matches Sections More Than 8 yrs Old
Amarr
CHI
Haas
DoorLink
Wayne Dalton
Overhead Garage Doors
What Caused The Damage?
Section Damage Can Happen In Several Different Ways. The Most Common Section Damage Is Caused From Impact From Vehicles. However, Don't Feel Bad. In Most Cases The Reason A Car Hits The Garage Door In The First Place Is Because The Door Has Not Been Serviced Or Maintained Properly.  The Best Advice I Can Give You To Avoid Running Into Your Garage Door With Your Car Is as Follows:
When Leaving Your Home, Push The Wall Button To Open The Garage Door Instead Of Using Your Remote. 
If your Garage Door Opener Sensitivity is Activated Due To The Binding Caused From A Garage Door that Is Not Working Properly Then You May Not Be Able To See That The Door Is Not All the Way Up From Your Rear View Mirror. This Is How More Than Half Of Bottom Section Damage Occurs.
Is It More Cost Effective To Replace The Garage Door?
Sometimes it May Just Be Better to Replace the Garage Door Instead Of Repairing. Below Are Some Reasons To Replace Instead Of Repair A Garage Door Section:
Design Choice– garage Doors Have Changed A lot In The Last Eight Years and Builders Rarely Consider The Garage Door Design When Budgeting A Home. In Many Cases The Garage Door Is One Third Of What People See When Looking At Your Home. Garage Door Design Choices Compliment Your Home and Unlike In The Past Garage Doors Have Become A Great Way To Invest In The Curb Appeal Of Your Home. Come By Our Show Room In Denver, Castle Rock, Loveland, Or Colorado Springs and See The Latest Garage Door Designs.
 Multiple Sections- Even The Slightest Damage to The Connecting Edge Of A Section Will Eventually Fail. It Has Been Compromised and Can Not Be Permanently Repaired. Multiple Sections Can Get Costly. If you You Have Two Or More Sections Consideration Of A New Garage Door Is A Good Idea.

 Can Not Find A Matching garage door Section – Most Manufacturing Companies Change The Stamp Design On Their Sections. When This Occurs You Will Not Get An Exact Match. My Experience is That Most Customers Do Not Like This. Unless You Don't Care How Your Door Looks and Your Only Looking For Functionality, Which Is Totally Understandable In Many Situations You May Prefer To Purchase A New Garage Door.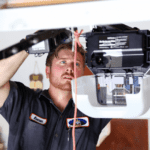 GARAGE DOOR OPENERS ARE BUILT WITH SENSITIVITY SETTINGS THAT ARE DESIGNED TO ALERT YOU OF POTENTIAL PROBLEMS. OLDER OPENERS MADE IT REALLY EASY TO ADJUST THE GARAGE DOOR OPENER "FORCE" SETTINGS.
THE OPENER FORCE SETTINGS SHOULD NEVER BE TURNED UP IN ORDER TO OVERCOME A PROBLEM WITH THE GARAGE DOOR THAT SHOULD BE RESOLVED WITH A GARAGE DOOR SERVICE OR REPAIR, BUT HOME OWNERS AND UN- PROFESSIONAL GARAGE DOOR TECHNICIANS ALIKE USED THE FORCE SETTINGS AS A QUICK FIX TO COVER UP A BIGGER PROBLEMS.
ULTIMATELY PUTTING THE ENTIRE GARAGE DOOR SYSTEM AT RISK FOR SEVERE FAILURE SUCH AS A GARAGE DOOR OFF TRACK SITUATION.
NEW GARAGE DOOR OPENERS HAVE ADDRESSED THIS PROBLEM. WHILE STILL EASY TO ADJUST THE SETTINGS IN THE OPENER WHEN NEEDED IT IS HARDER THAN JUST  A THOUGHTLESS TURN OF A SCREW DRIVER.
GARAGE DOOR AND GARAGE DOOR OPENER MANUFACTURING COMPANIES RECOMMEND PROFESSIONAL GARAGE DOOR AND  OPENER SERVICE AT LEAST ONCE A YEAR.
IF YOU HAVE AN OPENER THAT IS OLDER THAN 10 YEARS A NEW OPENER COULD BE A GOOD IDEA TO REMOVE THE RISK ASSOCIATED WITH OLDER OPENERS THAT HAVE NOT BEEN SERVICED REGULARLY OR PROPERLY.
THE TOP THREE REASONS A GARAGE DOOR WILL LOSE CABLE TENSION AND FALL OFF TRACK. ROLLERS, END BEARING PLATES, AND SPRINGS.
If  a cable comes off the drum, Do NOT try to fix it yourself. We can fix this problem for very little more than a door service 98.00. Therefore, Let a garage door pro do the work. Garage Door Off Track Situations above Stage 5 are Almost Always Caused By The Home Owner Trying To Fix The Garage Door Problem Themselves.
How do Customers prevent a Garage Door Off Track Condition? Garage door service and regular maintenance can prevent Garage Doors From Coming "Off Track. Garage Doors Service and Garage door inspection Should Be done twice a year according to most manufactures. A Professional Garage Door Service should be done any time
the door does not balance properly.
A noisy Garage door is a good reason to get your garage door serviced. Noisy Garage Doors can be a good indication that a problem exist but is never in and of itself a cause of failure due to its subjective nature.
If your Garage Door Opener Is Reversing Then Its Probably Because The Sensitivity Is Being Engaged. This Is A Warning That A Problem Exist. 

Never Turn Up Your Sensitivity To OverCome A Problem

.
Make Sure Your Sensitivity Is Reversing Properly. This IS in Your User Manual of Most Garage Door Openers and It Recommends Checking It on A Regular Basis. If you Don't Know How Call Us For A Door And Opener Service and We Will Show You.
Excessive Clutter in A Garage Can Cause Your Garage Door To Come Off Track. Anything That Binds The Garage Door Can Cause It To Come Off Track.
BACKED BY THE INDUSTRY LEADERS AND THE PEOPLE YOU TRUST!
GARAGE DOORS CASTLE ROCK, CO.
GARAGE DOORS COLORADO SPRINGS, CO.
GARAGE DOORS LOVELAND, CO.
OVER 1000 POSITIVE REVIEWS
Locations
Contact Us or Visit One Of our Three Garage Door Showrooms:
    
NORTHERN COLORADO REVIEWS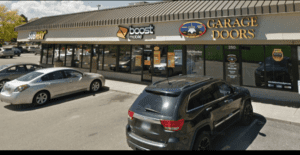 GARAGE DOORS LOVELAND COLORADO (NORTHERN COLORADO)
DENVER, COLORADO REVIEWS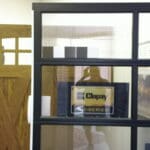 GARAGE DOOR SERVICE AND REPAIR IN DENVER, COLORADO

SOUTH DENVER REVIEWS
COLORADO SPRINGS REVIEWS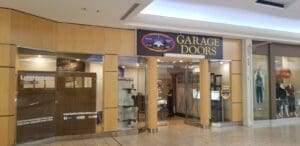 GARAGE DOORS AND GARAGE DOOR OPENERS IN COLORADO SPRINGS, COLORADO.

ABOUT US VIDEOS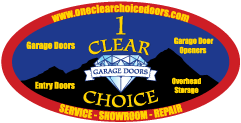 MAIN NUMBER 303-565-6409 HOW DID YOU FIND US?