One Clear Choice Garage Door Opener InstallS Are Eligible For Our   Exclusive ProVantage One Year Garage Door Opener Warranty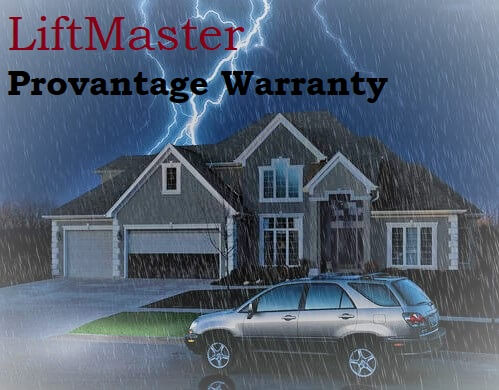 One Clear Choice Offers An Exclusive LiftMaster ProVantage Garage Door Opener Warranty.  NO ONE ELSE OFFERS A WARRANTY LIKE IT! We are A ProVantage Dealer in Colorado and In Georgia.  This Relationship With LiftMaster Can NOT be Purchased, It is Earned Through Hard Work and Dedication To Customer Service and Attention To Detail. When LiftMaster Has A problem They Call A ProVantage Dealer to Fix it. Our Exclusive ProVantage Garage Door Opener Warranty Is There Because Of Our Confidence In The LiftMaster Products.
The ProVantage Warranty Covers All Parts No Questions Asked. We Have Two Packages (1Year And 5Year YEAR Even Forces Of Nature Such As Lightning Strikes Up To The Complete ONE TIME Replacement Of One Head Unit, Safety Eyes,  Wall Button, Remote Control or Keypad.* One Clear Choice Will Repair or replace The Garage Door Opener Part or Garage Door Opener and
Manage Your Warranty Without going Through LiftMaster. Usually in One Visit.  Additional Labor Will be Charged.

After The Purchased One Year Or Five Year Plan Is Expired  Then All Opener Parts Are Warrantied Through LiftMaster Unless The Extended ProVantage Warranty Is Purchased

And Customer Must Go Through LiftMaster For Part and Pay Labor to Have Part installed. This Usually Takes Time To Receive the Part and get Rescheduled.
THE FOLLOWING CONDITIONS APPLY FOR MAINTAINING ELIGIBILITY:
Safety Eye And Sensitivity Adjustments Are Never Covered By warranty
Plugging in an Opener, Connecting the Trolley, Unlocking the Lock, Moving an Object That Is Blocking The Safety Eye, etc. is Never Covered by Warranty
Garage Door Openers Without a UL Approved Outlet at the Time Of Installation are Not Eligible
Garage Door Openers That Are Lifting Garage Doors That Are Not Properly Maintenance Are Not Eligible. 
Only Available On LiftMaster Garage Door Openers Purchased and Installed Through One Clear Choice garage Doors.
Garages That Are Under Construction That Create A Dusty Environment Will Not Be Covered.
Garage Doors That Have Recommended Work Not Completed are Not Eligible For Pro-Vantage Warranty