Earlier this week One Clear Choice began our series "Top 10 Garage Doors for Denver Reviewed". Here is Part 2.
7. Clopay Garage Doors – 4300 Series
One of One Clear Choice's "Premium Series" garage doors, this Clopay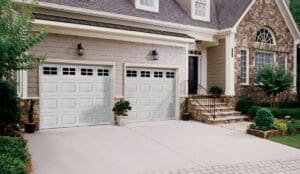 door is another three-layer construction door, which provides durability. It is also energy efficient and looks great.
With 2″ of polystyrene insulation, a silicone filled thermal break, and three beautiful panel styles in seven color options, the 4300 Series doors are a great option.
Again, the Premium Series' three-layer construction provides exceptional strength, dent resistance, insulation and security.
These garage doors also offer uncommonly quiet operation and a beautiful appearance inside and out. Select windows from our Classic or Designer Collections to complete the look.
6. Clopay Garage Doors – 9200 Series
Another Clopay Premium Garage Door, this door is part of our "Premium Plus Series". Because of our Authorized Dealership status we offer the "Gold Bar" package from Clopay standard with this door.
The Gold Bar package is an upgraded warranty package that will warranty the most common wearable parts such as springs and rollers for as long as you own your home.
This lifetime warranty does not come from us; it comes from Clopay, and is backed 100% by the Good Housekeeping Seal. No other garage door company in Denver has it; no other company in Denver will do it.
This garage door offers exceptional insulation, strength and security, as well as quiet operation and a beautiful appearance. Choose from three panel styles, seven color options and a wide range of decorative window options to create a door that fits your budget and enhances your home's curb appeal.
Custom Garage Doors – Where Will Your Imagination Take You?
These garage doors are made to impress you every time you drive up to
your home. Aluminum and glass combine to create a sleek, contemporary look. Many window options are available to control the degree of light transmission and privacy.
These garage doors are durable and many homeowner associations are already approving them. These doors don't just look good from the outside; they also open up your entire home from the inside. You won't want to leave your garage.
A Coachman Collection garage door will give your home classic elegance while complementing its own architectural style.
With three distinctive series, the Coachman Collection offers the sophisticated expression of a carriage house door with the science of durable steel and composite construction.
The result is a classic look that's virtually maintenance-free. It's the perfect blend of beauty and practicality – masterful in the details and innovative in design – and it's only from Clopay.
In the conclusion to our series, we'll reveal the top three garage doors that are clear front runners for survivability and value in the Denver area. Be on the lookout for it in a few days. If you can't wait that long, or have run into a problem with your garage doors, call One Clear Choice at (303) 565-6409.