Are you ready for the big reveal on the absolute best garage doors in the Denver area? Without further adieu, here are One Clear Choice's top picks:
3. Grand Harbor Garage Doors – Portfolio Line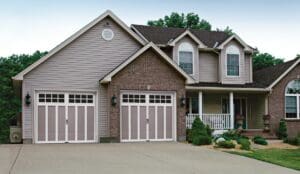 The Grand Harbor Collection combines classic charm with modern technology to provide a unique, low-maintenance garage door with cleanlines and lots of style.
The carriage house look is created by adhering custom composite overlays to a 2″ thick, 24-gauge base flush steel garage door with embossed wood grain texture. The doors can be customized by selecting arched, square, or rectangular windows.
Clopay's Old World European style wrought iron window, or the new "faux window" for added privacy and security. Decorative hardware is also included.
Well-suited to homes with active families, the Grand Harbor Collection will add beauty to your home and neighborhood. Hundreds of designs are available.
Featuring both beauty and affordability, the Gallery Collection from Clopay is always a winner. The Gallery Collection three-layer construction provides exceptional strength, energy efficiency and dent resistance as well as a beautiful carriage house appearance.
The 1-3/8″ or 2″ thicknesses of polystyrene or polyurethane insulation and thermal break make these garage doors heat and cold resistant while the tongue-and groove joints help seal out wind, rain and snow.
Available in short and long panels with multiple window options, the three-layer Gallery Collection is virtually maintenance-free, so the first fabulous impression becomes a lasting impression.
The #1 top garage door for the Denver area is… 1.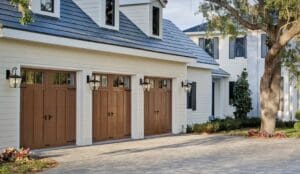 Canyon Ridge provides the natural beauty of wood with the durability and low maintenance of an innovative polymer cladding and overlay.
The end result is a faux wood garage door that duplicates every aspect of the charm and character of wood. The cladding and overlay material are molded from actual wood to replicate the natural texture and intricate grain patterns of Pecky Cypress, Clear Cypress and Mahogany.
Lightweight, durable and very easy to maintain, these rustic beauties are virtually indistinguishable from the original.