Enjoy the look of wood without the upkeep.
Discover CLOPAY® ULTRA-GRAIN®, a durable, natural-looking, stained woodgrain paint finish designed specifically for steel and aluminum garage doors.
Benefits
Ultra-Grain® eliminates the ongoing maintenance and staining requirements of a real wood door. It won't rot, warp, crack or shrink.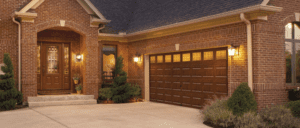 Ultra-Grain® paint system carries a Limited Lifetime Warranty.
Ultra-Grain® is available on two of Clopay's most energy-efficient insulated steel garage door models in a variety of styles and colors to fit your home style and your budget.
Ultra-Grain® colors complement Clopay's ENERGY STAR® qualified entry doors as well as other exterior stained wood products including shutters, columns and railings.
Built-in WindCode® reinforcement is offered on qualifying doors installed in hurricane-prone regions.
3-LAYER CONSTRUCTION
With R-values up to 18.4, these doors are built to provide year-round comfort, long-lasting beauty and durability and quiet operation.
DIRECTIONAL GRAIN
Ultra-Grain® runs in two directions, both horizontally and vertically, following the stiles and rails.
COLOR MATCHED WINDOW FRAMES
Color matched window frames, grilles, and decorative inserts are available.
ULTRA-GRAIN® PRODUCTS
PREMIUM SERIES
Classic raised panel designs that never go out of style.
GALLERY® COLLECTION
Vintage style steel doors with updated appeal.
For a more contemporary look, Ultra-Grain® can also be applied to Clopay's sleek aluminum and
glass Avante™ Collection.*
*Construction on the Avante™ Collection differs from the Premium Series and Gallery®
Collection steel doors.
Clopay is the only garage door manufacturer that has earned the Good Housekeeping Seal of Approval.
ONE CLEAR CHOICE is the ONLY authorized Clopay dealer in Denver.
Call us at 303-565-6409 to learn more about the Clopay Ultra-Grain products or any other one of your garage door needs.