Natural Wood and Wood Composite Garage Doors
Natural wood and wood composite garage doors are an excellent choice for those who love traditional style.
Wooden doors offer a uniquely warm, homey appearance to your home. However, they are heavy and pricey.
On the other hand, wood composite resembles wood but weighs less and is more affordable. Hardboard panels are other more affordable options in the wood category.
Natural Wood Garage Doors
Natural wood doors can be customized and offered in a variety of styles and can include accessories such as windows. Tree species choices for wood door construction are hemlock, cedar, Spanish cedar, fir, redwood, and meranti. They can be factory-stained or painted or finished on-site.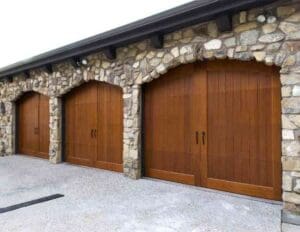 A sturdy wood garage door makes a real difference in the curb appeal of any house. It conveys a rustic, old-world quality that brings timeless beauty to your home's exterior.
If the price is a concern, you can opt for painted wood with flat hardboard panels or wood composite doors. Stain-grade wood doors cost more.
Also, solid wood doors are hefty, so make sure to hire a professional garage door installer. Otherwise, if they are not properly balanced, the mechanics wear out quickly. Wood doors are also susceptible to warping, cracking, water damage, and wood-loving creatures such as termites and carpenter bees.
Wood Composite Garage Doors
If you want the beauty of wooden doors but cheaper and with parallel resistant properties to steel, the wood composite is the way to go. Composite doors are made of recycled wood and they require minimal upkeep. They are stronger than natural wood doors, meaning that they will not rot, decay, or warp.
The core of a recycled wood garage door is typically filled with insulation, providing superior energy efficiency for homeowners.
Even though they closely resemble wood garage doors, they don't have the same level of detail as their wooden counterparts.
Also, composite garage doors can be insulated to improve the energy efficiency of your home.
If you are looking to enhance the curb appeal of your house with a wooden door in Colorado, One Clear Choice has the garage door for you. We carry a wide variety of doors to choose from.