In Part 1 of our series, "Your Garage Door Opener – Denver's Best Reviewed," we talked about the history of the garage door opener and why it is a luxury but not a necessity for actually lifting your garage door, and then we presented #4 and #3 on our list of the top 4 garage door openers on the market.
In Part 2 of our series "Your Garage Door Opener – Denver's Best Reviewed", we present our picks for the top 2 openers. Beginning with the runner up…
2. 3800 LiftMaster jackshaft
This garage door opener is one of One Clear Choice's absolute favorites. No headroom? No problem. This opener mounts to the torsion tube and lifts the door by turning the tube.
What this means is that if you do not have the extra room overhead for a bulky opener, you do not need to resort to mounting your opener sideways with bulky hardware in a way that was never the designer's intention, or cut into the ceiling to make it fit.
With this opener those problems are gone. It also comes with a track lock, and a cable tension sensor to keep the door from coming off track if the cables lose tension.
This garage door opener can have a battery backup and a remote light installed on it. The wall button is "Smart" – it tells the time as well as the temperature in the garage and features a soft LED glow making it easy to find in the dark.
The wall button can also tell you if your safety eyes are out of alignment, if the door is locked, or if you had a power failure – all in three languages (English, Spanish and French). When this opener goes to MyQ™ technology there will be no comparison.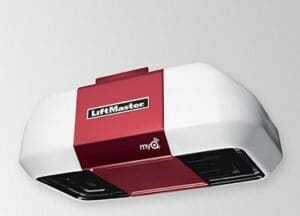 1. 8550 LiftMaster DC belt drive with MyQ™ technology
Simply amazing, this belt drive garage door opener does it all. It is quieter than the 3280 and softer on the gears because of the DC motor that takes off slowly on start, and lands slowly, moving at a normal rate in between.
The wall button on this opener does everything that the jack shaft does and more, even telling you how many times you have cycled the door, and whether or not it may need service.
The computer inside the opener will even adjust the sensitivity when needed and is capable of identifying if problems are coming from cold or maintenance issues.
This garage door opener's MyQ™ technology allows you to connect to your garage door opener through your cell phone and operate it. That's right – if you have cell phone service, you can close your door from thousands of miles away. You can also open and close your door from any room in the house.
This garage door opener also has the battery back up to keep your door functional during power failure. The possibilities are endless with the 8550 LiftMaster DC belt drive with MyQ™ technology.
Wait till you see why certain openers didn't make the list in our next post…