GARAGE DOOR END BEARING PLATE REPLACEMENT PRICING
WHEN SHOULD GARAGE DOOR EN BEARING PLATES REPLACED? DO GARAGE DOOR END BEARING PLATES GO BAD?
WHAT ARE GARAGE DOOR END BEARING PLATES
WHAT ARE GARAGE DOOR END BEARING PLATES
INCORRECTLY INSTALLED AND FAILING END BEARING PLATES SHOULD BE REPLACED IN ORDER TO AVOID GARAGE DOOR OFF TRACK SITUATIONS.
     ON LARGER GARAGE DOORS TORSION SPRING SYSTEMS ARE ALMOST ALWAYS USED. TORSION SYSTEMS ARE VERY DANGEROUS IF YOU DO NOT KNOW WHAT YOU ARE DOING. TORSION SPRINGS ARE INSTALLED ON A TORSION TUBE. THE TORSION TUBE IS HELD IN PLACE WITH THREE BEARING PLATES. ONE CENTER BEARING PLATE AND TWO END BEARING PLATES. SOME LARGER GARAGE DOORS MAY HAVE ADDITION CENTER TORSION PLATE BRACKETS.
   THERE ARE …….. REASONS FOR END BEARING PLATE BRACKETS TO BE REPLACED.
INCORRECT INSTALLATION OF THE END BEARING PLATE
INCORRECT END BEARING PLATE INSTALLED
AGE AND LIFE EXPECTANCY OF THE END BEARING PLATE
FAILING END BEARING PLATES AND COMPLETE FAILURE.
INCORRECT END BEARING PLATE INSTALLATION
End Bearing Plates Have To Be Installed Correctly Or They Will Bind On The Torsion Tube. When An End Bearing Plate Binds On The Torsion Tube It Puts Your Garage Door At Risk Of Complete Failure.
End Bearing Plates That Are Not Installed Correctly Can Cause Your Garage Door To Fall Off The Tracks and In Some Cases Rip/Break/Tear/Sheer The Garage Door Torsion Tube Completely.
If a Garage Door Torsion Tube Is Sheared or If  Your Cables Come Off The Garage Door Drums The Garage Door Will Be Completely Inoperable.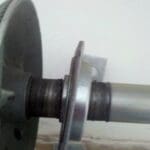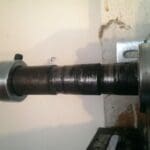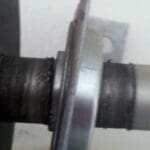 End Bearing Plates Should Be Tied Into At Least Two Points.
On 12 " Radius Garage Door Track The Two Points are on the Horizontal Garage Door Track and The Vertical Flag Bracket.
On 15″ Radius Garage Door Track The End Bearing Plate Should Be Installed Into the Horizontal track at Two Points as Well As Tied Into The Wall Through The Flange That Is Typically Found On Residential Garage Door Installation Hardware Boxes. If The End Bearing Plate Can Not Be Tied Into The Wall Then You Must Install Garage Door End Bearing Plate Retainers. End Bearing Plate Retainers Are Designed For Commercial Garage Doors. Commercial Garage Doors Do Not Typically Have A Place To Tie The End Bearing Plate In Or The Plate Does Not Have A Flange, So End Bearing Retainers Solve The Problem Caused By Flexing Due To The Inability To Tie Into Two Opposing Points.
FAILING END BEARING PLATES
End Bearing Plates Have A Life Expectancy Of 20,000 Garage Door Cycles. Thats About 15 years For Most Home Owners.
If End Bearings Are Installed Correctly and The Garage Door Is Serviced Regularly End Bearing Plates Can Last A Long Time. However, They Do Have A Shelf Life.
If The Garage Door Is Used More Than Twice a Day, and The End Bearing Plates Are Not Serviced Then Even If They Are Installed Correctly They Can Seize Up And Bind The Torsion Tube.
This Binding Puts Your Garage Door At Risk For Complete Failure.
Failure To Maintain Your Garage Door End Bearing Plates Makes It Impossible to Predict  Age And Life Expectancy. Failure Can Happen in As Little As One Year If Not Serviced and Maintained as Directed In Owners Manuals. Your Garage Door Is At Risk of Complete Failure.
2 cycles a day x 365 Days a Year = 730 cycles a year
20,000 cycles divided by 730 cycles a year = 20.547 years.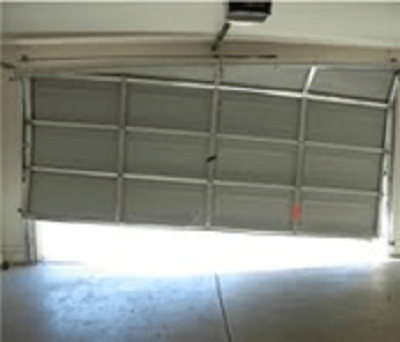 BROKEN DRUMS
YOU CAN PREVENT YOUR GARAGE DOOR FROM COMING OFF TRACK WITH REGULAR GARAGE DOOR MAINTENANCE AND REPLACING PARTS PAST AGE AND LIFE EXPECTANCY.
69.00 discount Available On Drum Replacement Installation
parts must be purchased through One Clear Choice
**discount may not be used with any other discounts. Only available when replacing both cables Set (2)
NOISY DOOR GARAGE DOOR FAILURE
THE TOP THREE REASONS A GARAGE DOOR WILL LOSE CABLE TENSION AND FALL OFF TRACK. ROLLERS, END BEARING PLATES, AND SPRINGS.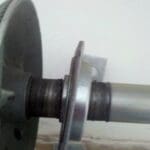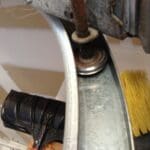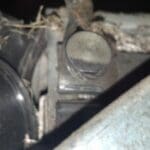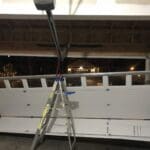 If  a cable comes off the drum, Do NOT try to fix it yourself. We can fix this problem for very little more than a door service 98.00. Therefore, Let a garage door pro do the work. Garage Door Off Track Situations above Stage 5 are Almost Always Caused By The Home Owner Trying To Fix The Garage Door Problem Themselves.
How do Customers prevent a Garage Door Off Track Condition? Garage door service and regular maintenance can prevent Garage Doors From Coming "Off Track. Garage Doors Service and Garage door inspection Should Be done twice a year according to most manufactures. A Professional Garage Door Service should be done any time
the door does not balance properly.
A noisy Garage door is a good reason to get your garage door serviced. Noisy Garage Doors can be a good indication that a problem exist but is never in and of itself a cause of failure due to its subjective nature.
If your Garage Door Opener Is Reversing Then Its Probably Because The Sensitivity Is Being Engaged. This Is A Warning That A Problem Exist. Never Turn Up Your Sensitivity To Over Come A Problem.
Make Sure Your Sensitivity Is Reversing Properly. This IS in Your User Manual of Most Garage Door Openers and It Recommends Checking It on A Regular Basis. If you Don't Know How Call Us For A Door And Opener Service and We Will Show You.
Excessive Clutter in A Garage Can Cause Your Garage Door To Come Off Track. Anything That Binds The Garage Door Can Cause It To Come Off Track.
FAILING GARAGE DOOR OPENERS PUT YOUR GARAGE DOOR AT RISK FOR FAILURE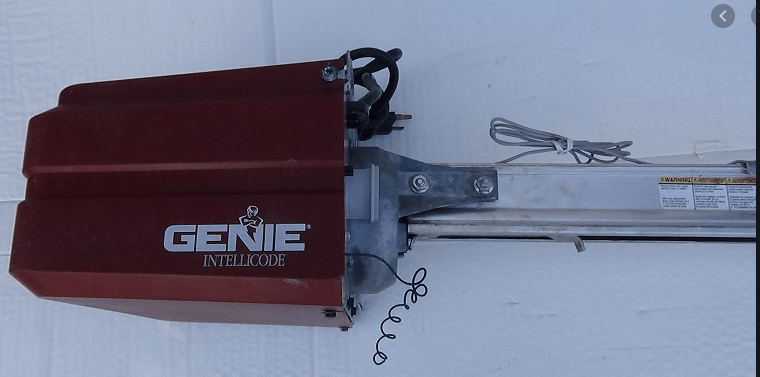 GARAGE DOOR OPENERS ARE BUILT WITH SENSITIVITY SETTINGS THAT ARE DESIGNED TO ALERT YOU OF POTENTIAL PROBLEMS. OLDER OPENERS MADE IT REALLY EASY TO ADJUST THE GARAGE DOOR OPENER "FORCE" SETTINGS.
THE OPENER FORCE SETTINGS SHOULD NEVER BE TURNED UP IN ORDER TO OVERCOME A PROBLEM WITH THE GARAGE DOOR THAT SHOULD BE RESOLVED WITH A GARAGE DOOR SERVICE OR REPAIR, BUT HOME OWNERS AND UN- PROFESSIONAL GARAGE DOOR TECHNICIANS ALIKE USED THE FORCE SETTINGS AS A QUICK FIX TO COVER UP A BIGGER PROBLEMS.
ULTIMATELY PUTTING THE ENTIRE GARAGE DOOR SYSTEM AT RISK FOR SEVERE FAILURE SUCH AS A GARAGE DOOR OFF TRACK SITUATION.
NEW GARAGE DOOR OPENERS HAVE ADDRESSED THIS PROBLEM. WHILE STILL EASY TO ADJUST THE SETTINGS IN THE OPENER WHEN NEEDED IT IS HARDER THAN JUST  A THOUGHTLESS TURN OF A SCREW DRIVER.
GARAGE DOOR AND GARAGE DOOR OPENER MANUFACTURING COMPANIES RECOMMEND PROFESSIONAL GARAGE DOOR AND  OPENER SERVICE AT LEAST ONCE A YEAR.
IF YOU HAVE AN OPENER THAT IS OLDER THAN 10 YEARS A NEW OPENER COULD BE A GOOD IDEA TO REMOVE THE RISK ASSOCIATED WITH OLDER OPENERS THAT HAVE NOT BEEN SERVICED REGULARLY OR PROPERLY.
GARAGE DOOR OPENER PRICING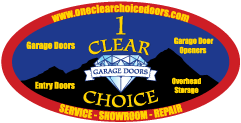 MAIN NUMBER 303-565-6409 HOW DID YOU FIND US?
Denver Garage Door Showroom
Castle Rock Garage Door Showroom
Loveland Garage Door Showroom
Colorado Springs Garage Door Showroom
OVER 1000 POSITIVE REVIEWS
Locations
Contact Us or Visit One Of our Three Garage Door Showrooms:
NORTHERN COLORADO REVIEWS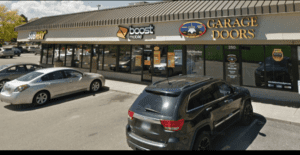 GARAGE DOORS LOVELAND COLORADO (NORTHERN COLORADO)
DENVER, COLORADO REVIEWS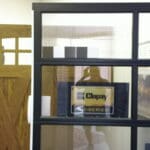 GARAGE DOOR SERVICE AND REPAIR IN DENVER, COLORADO

SOUTH DENVER REVIEWS
COLORADO SPRINGS REVIEWS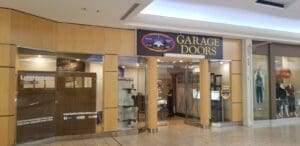 GARAGE DOORS AND GARAGE DOOR OPENERS IN COLORADO SPRINGS, COLORADO.

ABOUT US VIDEOS
ABOUT US VIDEO
WE KNOW YOU HAVE A LOT OF CHOICES. WE ARE GRATEFUL FOR THE OPPORUNITY AND WE LOOK FORWARD TO BEING YOUR ONE CLEAR CHOICE FOR ALL YOUR GARAGE DOOR NEEDS.